This workshop is suitable for everybody. You might be young, healthy and without pain but if you do not take good care of your body now and you are not aware of bad habits that are very common in our society ( bad posture, lack flexibility, poor nutrition etc. ) you will sooner or later suffer the consequences of it. If you are in the midst of you life or more advanced in age and you have to deal with pain every day you know what I am talking about.

Life with pain is not a life. It is a struggle and many people would give up all their whole fortune to be able to live again without pain and enjoy their life to the fullest.

Fortunately this is not necessary. In this seminar we will address the most common pains and aches that people suffer in their everyday life and we also show you practical methods how to prevent them and/or eliminate them in the healthy way. By the end of the workshop you will realise how easy it is to live life without pain.

The knowledge and methods that you learn about will save you throughout your lifetime a lot of time and money that are so often spent on useless therapies. Also it might save you from the consequences of unnecessary medical operation and side effects of medications.
WORKSHOP DESCRIPTION

---
DURING THIS WORKSHOP WE WILL DISCUSS THE FOLLOWING TOPICS:
---
Common pains: lower back, "sciatic", neck, shoulder, tennis elbow, knee etc.
Symptoms and real cause of the pain ( the cause of the pain is usually not where the pain is )
Causes of pain: structural, emotional, mental, chemical, other
Work at the computer as one of the main causes of pain - correct posture etc.
Sleep position
Driving
Bad pain vs Good pain
Posture correction - hips, feet, shoulders !
Importance of stretching and exercises
Self massage - antagonist, meridians, opposite side
Back massager, massage hook and other tools to help with back pain
When massage is helpful and when it is not ?
When to contact chiropractor, osteopath, doctor or other specialist ?
What to do if therapy is not effective ?
Painkillers - effectiveness and dangers
Prevention is always the best cure
Nutrition
Breathing
Stress management
Muscle / organ weakness - kinesiology testing
Meditation
Computer work - changing position
Phone - ear to shoulder !
Surgery - before and after
No pain no gain
Cortisol injections
Nerve endings burning
Short leg
"Suppressed" / "invisible" pain
Slipped disks in the vertebral column
Accidents
Scoliosis
Arthritis - joint inflammation
Osteoporosis
Repetitive strain injuries
Migraines
Bone on bone
Menstruation pain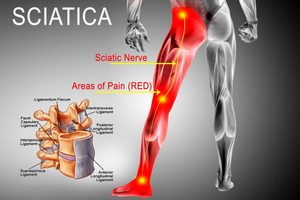 ---
---
PRICES
We offer "LIFE WITHOUT PAIN" workshops in our studio in Playa del Ingles as well as in other Yoga studios, fitness & health centers, hotels etc. To organize a seminar in your studio please contact us.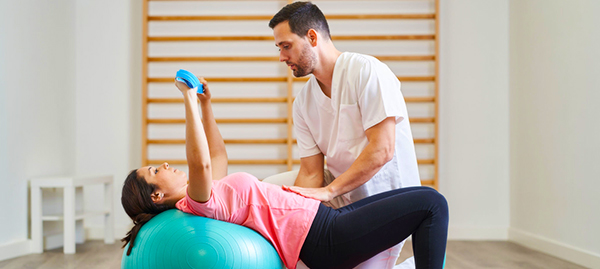 INDIVIDUAL
90 min - 120 €
Face to face appraoch will give you possiblity to ask all the questions you might have and we will focus on specific areas of your interest.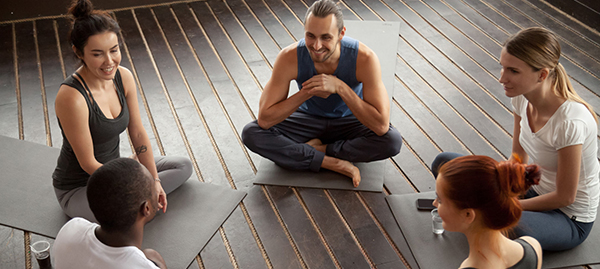 COUPLES
120 min - 140 €
Doing it together with your partner will make the whole process of change much easier as later you will support each other in it.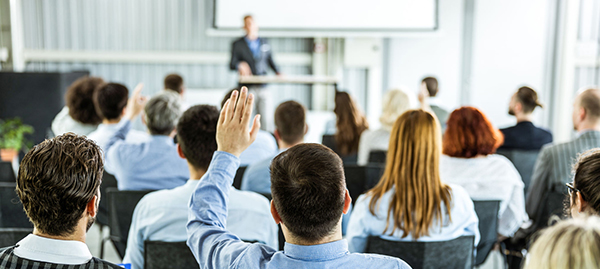 GROUPS
120 min - 30-65 € / person
We love to work with groups as this gives us the opportunity to share our precious knowledge and experience with more people.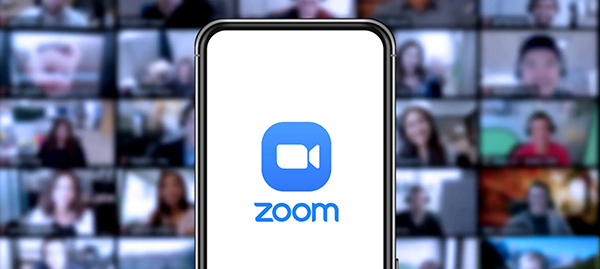 VIRTUAL CONSULTATION
120 min - 120 €
We prefer face to face apraoch but those who are far away will also benefit greatly from our adivce through video conference.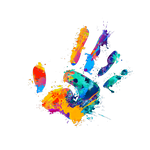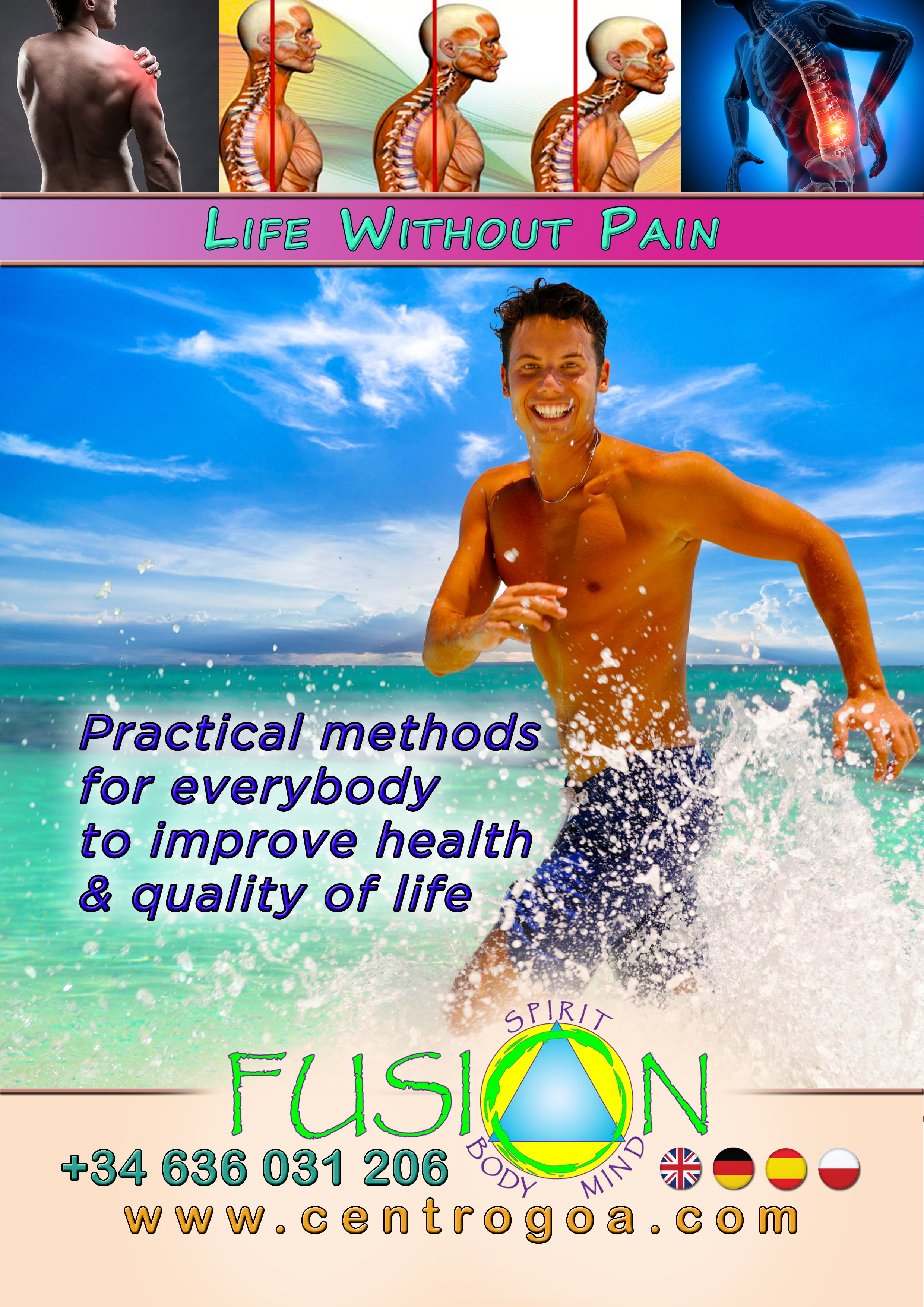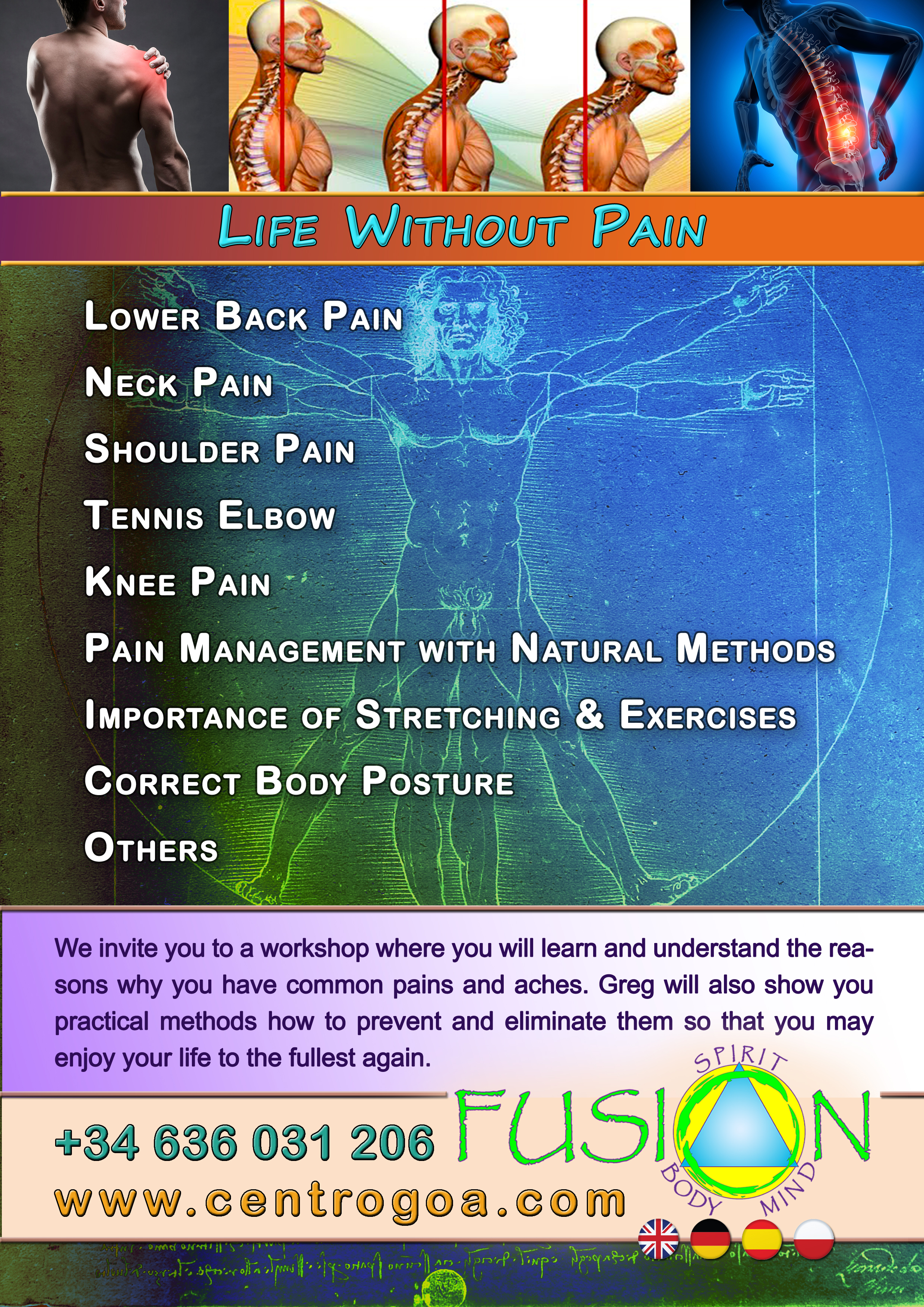 IMPORTANT
---
We are not doctors.
---
We share our knowledge and experience that helped us and many other people who applied it in their life.
---
You are responsible for your decisions about what you do or not do with it.
---
We have to write this message because our healthcare and legal systems are insane.