MASSAGE

TREATMENTS
---
Feel the harmony and well-being in your body and mind
We offer our clients massage service in our studio in Playa del Inglés. We are experienced professionals and offer a variety of body treatments.

We also give you the possibility to enjoy the pleasure of having a massage in the privacy of your room ( hotel, house or office ). For home service all of our therapists travel fully equipped ( including professional massage table ) to ensure a great massage experience. We are highly trained professionals offering high quality treatments with exceptional customer service standards.

We work 7 days a week from 9:00 a.m. to 9:00 p.m.
RELAXING MASSAGE
You deserve to have a break from a daily stress. So take some time for yourself and enjoy a wonderful session of relaxing massage with us.
---
45 min - 45 €
60 min - 65 €
120 min - 120 €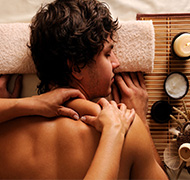 STRONG ( SPORT ) MASSAGE
Some people enjoy strong pressure while receiving massage. And so this massage is right for you especially if you do sport regularly.
---
60 min - 70 €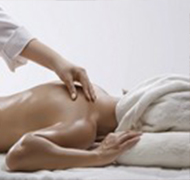 PREMIUM MASSAGE
We have blended many techniques and styles of massage to give you this ultimate relaxation experience. During the session we will incite all of the senses of your body with the warmth of the hot oil, hot stones, special vibration mattress etc. and you will have no other choice but to drift away into the dimensions of tranquility and peace.
---
120 min - 135 €
180 min - 170 €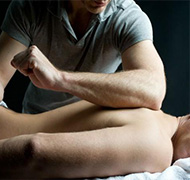 XL MAN MASSAGE
For some people sport massage is not strong enough. And so we have developed this special massage technique to do a really deep work on your muscles.
---
90 min - 100 €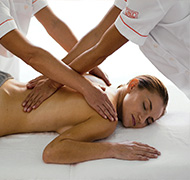 4 HANDS MASSAGE
If you enjoy to receive a massage then why not multiply the pleasure twice with the 4 hands massage ?
---
60 min - 120 €
120 min - 210 €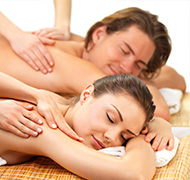 COUPLES MASSAGE
4 hands massage will multiply your enjoyment. And so it will be the same when you receive the massage together with this special person at the same time.
---
60 min - 120 €
120 min - 210 €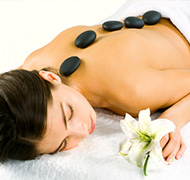 HOT STONE MASSAGE
The heat of the stones will penetrate your body gently but profoundly and you will completely sink into the state of deep relaxation.
---
60 min - 70 €
REFLEXOLOGY
It is simply amazing to see how massaging such a small part of the body can bring a whole person quickly into the state of relaxation and help to take away the stress.
---
30 min - 35 €
45 min - 45 €
---
---
PERSONAL TRAINER
You know you do not have enough time or desire to be a professional bodybuilder. But you would still like to have a good body and feel strong and healthy. We help you reach your goals faster. It is much easier than you think. And the results are guaranteed.
---
1st consultation - 80 €
60 min - 60 €
ICOSATHERAPY
Every day we are bombarded by negative radiation from mobile phones, computers, televisions and other electronic devices. All this negatively influences the electromagnetic field of our own body, and in a moment (depending on the state of the body of each person) can be manifested as weakness and / or disease. It is very subtle, but even so everything is confirmed by science and doctors.

The Icosahedron generates its own electromagnetic field and has the capacity to balance, harmonize and recharge our own energy field. It has been proven that just one session brings positive changes in the body. It is now available in Centro Goa - Playa del Inglés - Gran Canaria.
---
30-45 min - 30 €
5 sessions - 130 €
10 sessions - 250 €